Streamlining T-cell engager development with functionally diverse CD3-binding antibodies
Immunotherapies are powerful cancer treatments that help the immune system identify and destroy cancer cells. CD3 T-cell engagers — a type of immunotherapy — are bispecific or multi-specific antibodies that redirect cancer-killing T cells to tumor targets. They bind both T cells and cancer cells simultaneously, bringing the two cells in close proximity, resulting in T cell activation and killing of the target tumor cell.
The Challenge
Developing effective T-cell engagers requires discovery of two parental antibodies — a CD3-binding arm that fine-tunes T cell activation and a tumor-binding arm with high specificity for cancer cells. Pairs of parental antibodies that function effectively in concert with each other are rare, necessitating diverse panels of antibodies that can be paired and tested at scale to find optimal clinical candidates.
The Goal
Use our integrated antibody discovery, characterization, and engineering technologies to break the barriers of conventional discovery and develop a large panel of fully human CD3-binding antibodies.
The Outcome
A panel of fully human CD3-binding antibodies that is:
Diverse
A range of CD3 affinities
A range of T cell activation potencies
Multiple epitope bins containing human and cynomolgus (cyno) cross-reactive binders
Developable
Favorable biophysical properties, including high thermal stability and low hydrophobicity, self-association, and polyspecificity
Validated
Proof-of-concept CD3 x EGFR T-cell engagers had a range of T cell activation and tumor cell killing potencies with low cytokine release
SEQUENCE DIVERSITY
We used proprietary immunization strategies with intact human and/or cyno CD3 complexes to induce robust immune response in humanized mice. We screened more than five million single antibody-producing cells using our single-cell screening technologies and identified more than 2,000 CD3-specific hits.
We used single-cell sequencing to identify more than 500 unique antibody sequences from ~160 different clonal families. More than 170 of these unique sequences were from single-cell hits with cross-reactivity to human and cyno homologs.
Bioinformatic analyses revealed diverse antibody sequences with a range of V genes and CDR3 lengths, optimized by natural selection through somatic hypermutation.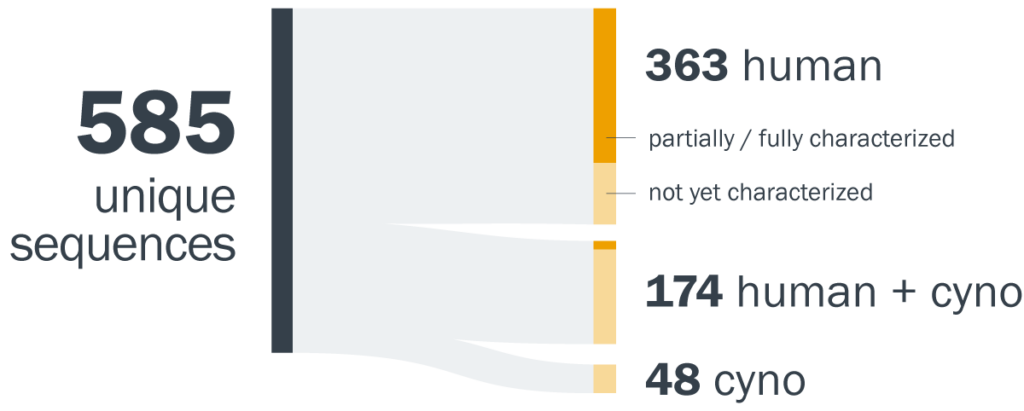 FUNCTIONAL DIVERSITY
Our CD3-binding antibodies show binding and functional diversity. High-throughput antibody expression and characterization revealed a broad range of CD3 affinities and T cell activation potencies.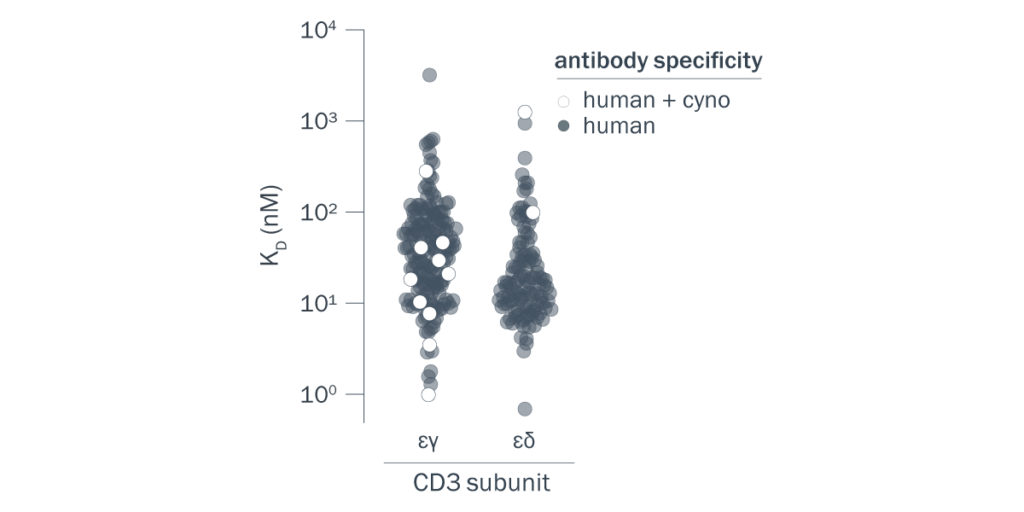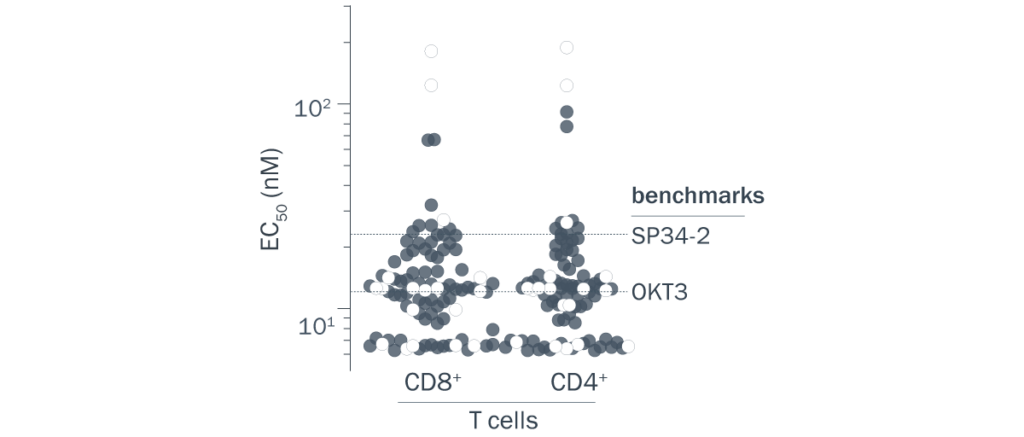 We used high-throughput SPR epitope binning of CD3-binding antibodies, revealing multiple epitope bins. Antibodies with cross-reactivity to human and cyno CD3 were found in multiple epitope bins, including those that were distinct from characterized, commercially available CD3-specific antibodies that are commonly used for T-cell engager development, such as UCHT1 and SP34-2.
DEVELOPABILITY
High-throughput antibody assessment identified antibodies with promising developability traits, including: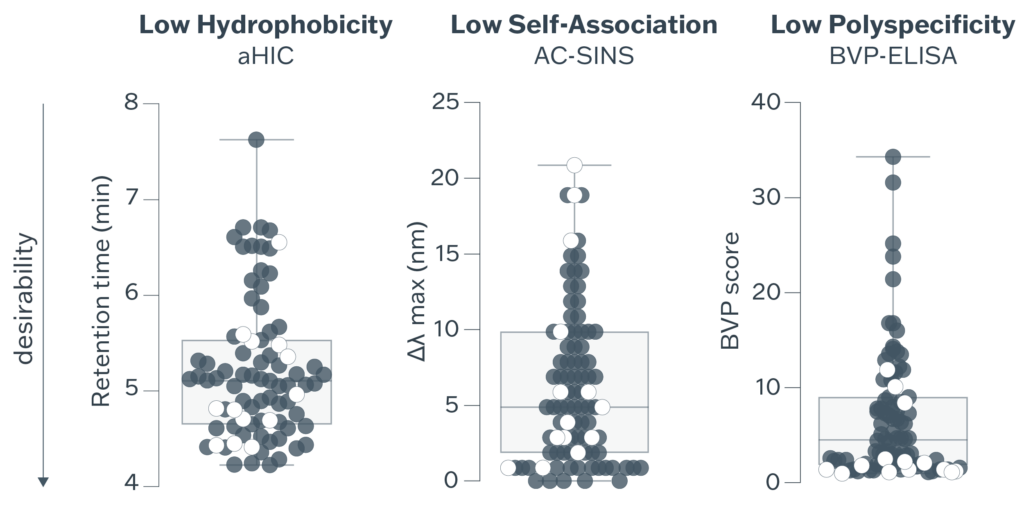 VALIDATION
Engineering antibodies that potently eliminate cancer cells without inducing toxicity has been a significant challenge limiting T-cell engager development. In proof-of-concept experiments, we used our OrthoMabTM bispecifics platform to generate CD3 x EGFR T-cell engagers. High-throughput functional and biophysical assays identified developable and potent T-cell engager molecules that maintained low levels of cytokine production.